Jim Forde – Principal Conductor, Concert Band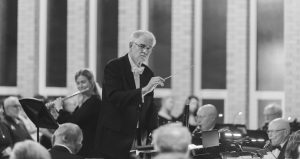 Jim Forde became Principal Conductor and Music Director of the Sackville Concert Band in January 2004.   He was born in Vancouver, British Columbia in March 1947 and raised in Vancouver, Brighouse (Richmond), West Langley and in Port Kells (Surrey).   In June 1964 Jim joined the Royal Canadian Navy as a Bandsman Apprentice and spent the next two and a half years studying at the Canadian Forces School of Music at HMCS Naden in Esquimalt, British Columbia. After graduation he joined the HMCS Stadacona Band in Halifax, Nova Scotia and over the next seventeen years travelled and performed extensively throughout Canada, the United States, the United Kingdom, Western Europe, Russia and the Caribbean.
Between 1967 and 1984, in addition to his naval band duties, Jim instructed at summer music camps, taught general music at the Halifax Grammar School and for 4 years served as band director of the Truro Junior High School Concert Band. As a tuba player he performed with a number of well-known Halifax based musical ensembles including the popular Bavarian Group "Die Holzhacker Bub'n."
In 1984 Jim attended the assistant director of music course at the Canadian Forces School of Music.  After graduation he was appointed Tuba Instructor at the school and promoted to Chief Petty Officer 2nd Class. In October 1987 he was commissioned in the rank of Lieutenant (Navy) and the following summer appointed the Stadacona Band's Commanding Officer and Director of Music.  In July 1994 Jim retired from the regular force and joined the naval reserves where he served as Maritime Forces Atlantic's Senior Staff Officer to the Royal Nova Scotia International Tattoo and as Honourary Aide‑de‑Camp to the Lieutenant Governor of Nova Scotia.  In 2001 Jim retired from the Canadian Forces and then joined the civilian Production Team of the Tattoo where he assumed a variety of positions until his retirement in 2017.
Jim remains active as a conductor, clinician and adjudicator.  In addition to being a long-time member of the Atlantic Federation of Musicians he is Past National President of the Canadian Band Association, Past Provincial President of the Nova Scotia Band Association, former Vice-Chair of Musicfest Canada's Concert Band Division and for nine years was Manager of the Canadian Band Association's National Youth Band of Canada.  In 2000 he was awarded the Nova Scotia Music Educators' Association "Musica Viva Award of Merit" in recognition of his contributions to music education in Nova Scotia.  In 2005 he was made Life Member of the Nova Scotia Band Association and in 2007 was presented with the Canadian Band Association's "National Band Award" recognizing contributions to the promotion, growth, and development of the musical, educational, and cultural values of band throughout Canada.
Danielle Chute – Principal Conductor, 9am Band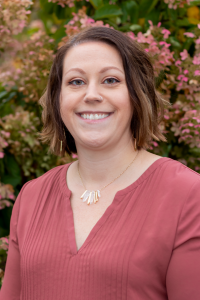 Danielle is a native Newfoundlander, grew up all over Ontario and came to Nova Scotia to study music at Acadia University. She graduated from Acadia University with both a Bachelor's of Music and a Bachelor's of Education. Danielle performed with various ensembles and quartets while at Acadia. After graduation Danielle worked for the HRCE as a substitute teacher for several years, as well as running woodwind clinics for various schools. Daniele was a private instructor for Long and McQuade for several years teaching private woodwind and beginner piano lessons.
Danielle is now a stay at home mom to two beautiful daughters but continues to teach private lessons and run clinics for schools and band festivals. She holds the position of Principal Conductor of the 9am Community Band and is a performing saxophonist with the Sackville Concert Band. Danielle is also Treasurer for the Nova Scotia Junior Wind Ensemble and performs with Glass Winds – Nova Scotia Women's Wind Ensemble, a saxophone quartet, and various pit orchestras for musicals throughout Nova Scotia – "The Drowsy Chaperone", "Shrek the Musical", "Legally Blonde", "Jesus Christ Superstar". Danielle is always looking for more opportunities to instruct and perform music throughout Nova Scotia, and enjoys volunteering her time to various organizations in the music community.
Bryan Crocker – Associate Conductor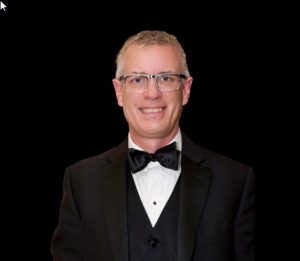 Bryan is the baritone saxophonist with the Sackville Concert Band and has enjoyed being a professional saxophonist in Halifax for a few decades playing with such artists/events as Ice Capades, The Moscow Circus, The Temptations, The Spinners, Rosemary Clooney, Dionne Warwick, the John Alphonse Big Band and many others.
Bryan is also an accomplished choral conductor and has been conducting choirs since 2000 when he was appointed Artistic Director of the Dalhousie Health Professions Chorale.  He continues to enjoy conducting the mixed choir at Dalhousie University as well as being Co-Artistic Director of Nova Voce, the Nova Scotia Provincial Men's Choir, and recently was thrilled to be asked to become the Artistic Director of the Halifax Gay Men's Chorus.
Bryan also sings baritone with the acclaimed Halifax Camerata Singers and is also past-president of the Nova Scotia Choral Federation, and sits on a number of planning committees, both provincially and nationally.  During the weekdays, in his free moments, Bryan is a full-time clinical manager with Information Management & Technology at the Nova Scotia Health Authority.